Sanjh Preet Organization has been working tirelessly to help flood-affected communities in the districts of Rajanpur and Dera Ghazi Khan. These two districts experienced heavy rains last year, followed by devastating floods that destroyed homes, schools, buildings, infrastructure, bridges, livestock, and agriculture. Hundreds of thousands of people lost their livelihoods, leaving them in dire need of assistance.
In response to the crisis, Sanjh Preet Organization has been working to restore the lives of millions of affected individuals. In collaboration with the district education authorities and financial support of the UNICEF, it has established temporary learning centers and tent schools for the resumption and continuation of educational activities in the affected area.
Many schools in the affected areas were damaged or destroyed, and children were left without access to education. Sanjh Preet has stepped in to help bridge this gap and ensure that children continue to receive an education.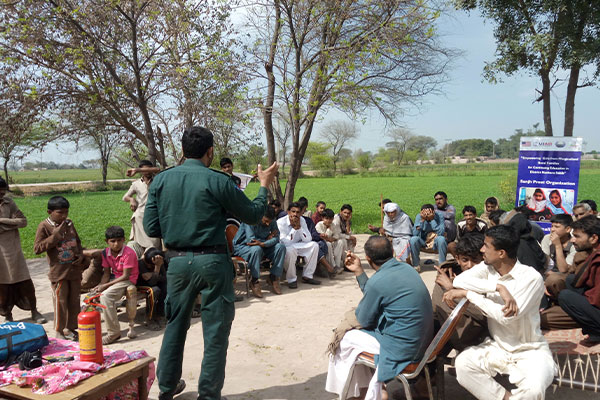 The organization understands the importance of education in the lives of children, especially in times of crisis, and has been working to provide a safe and conducive learning environment.
Sanjh Preet Organization has been undertaking child protection activities. The organization recognizes that children are among the most vulnerable in times of crisis, and it has been working to protect them from harm. This includes providing safe spaces for children, ensuring that they have access to essential services like healthcare and education, and working to prevent and respond to child abuse and exploitation. Sanjh Preet has also been working with families to reunite children who may have become separated from their parents or guardians during the floods.
Another critical area of focus for Sanjh Preet Organization has been providing health facilities to women, men, and children in the emergency-hit areas. In times of crisis, access to healthcare can be severely limited, leaving people vulnerable to illness and disease. Sanjh Preet has been working to address this by providing health services to those in need. This includes setting up temporary health clinics, providing medical supplies and equipment, and working to prevent and respond to outbreaks of communicable diseases.
Sanjh Preet Organization has been doing invaluable work in the districts of Rajanpur and Dera Ghazi Khan. The organization's efforts have helped to restore the lives of millions of affected individuals, providing them with access to education, child protection, and healthcare. The work of Sanjh Preet is essential, not only for the immediate relief it provides but also for the long-term impact